I know that some of you have had the bad luck to break the limited slip assembly, me too.
But for me I one of the internal spider gears has broke and I think that is pretty uncommon.
It's the small gear at 2 o'clock in the picture.
I hope someone have a broken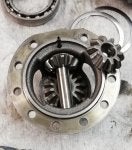 complete slip gear or the spider gear left and can sell this item to me, that would be much appreciated.
As I live in Sweden and it can be some work to arrange the freight it is possible to make the shipping to a friend in Franklin,Tn and I arrange the shipping from there.
I'm in no hurry, it's 2 feet of snow here and this is my garage project during the winter.
Best regards
Roger