I finally finished building this trailer to pull behind my Grizzly. I wanted to use the same wheels and tires so I would have spares if needed when out in the wilds. (click pictures to enlarge)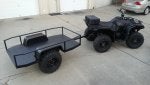 I designed it to have more ground clearance than the Grizz to ensure I could get it over everything. I also wanted it to have springs to reduce the bouncing my old trailer had.
I made it slightly narrower than the Grizz to ensure it can get between anything the Grizz can. I also angled the front and back slightly inward so it wont catch on tree's after I go through and begin to turn. The tongue is removable and it can balance on it's back end for storage.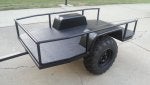 I had it powder coated matte black to match the color and sheen of the matte black Grizz and then I coated the floor with bedliner to give it grip. I have tie off loops hidden under the frame to give it more flexibility to tie off varying loads.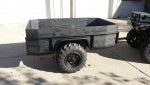 As a final note I have a set of removable sides to fully enclose the box. They are about 5" taller than the rails to give me more capacity and they can be installed in less than a minute with no tools.
I'm very pleased with how it turned out. I will be putting it to the test when I head out for a camp trip in two weeks.